When I was 33-years old, I slipped on an icy sidewalk and fractured my knee cap. Ouch! I never dreamed how much something that looked like a simple "skinned knee" could impact my life. In an instant, I had been sidelined. It was as if God had grabbed me and said, "You, Deb. Time out. You're benched until further notice." I had an inkling that I'd been hiding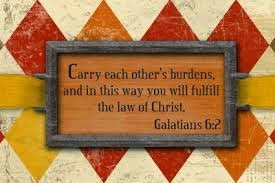 from my emotional pain. The reality that my husband Randy was an alcoholic lurked in my thoughts. But if I stayed busy enough, I could avoid the truth that was too painful to confront.
I spent weeks on the couch, my leg in a huge plaster cast from my ankle to my thigh. I couldn't run away–even if I wanted to. Instead, I had a front row seat to observe what was happening in my marriage–and it wasn't pretty.
A friend had told me about a Christian counseling practice in Seattle called Burden Bearers. She encouraged me to call and make an appointment. I remember the day my friend loaded me and my crutches into the backseat of her Ford Pinto, my bulky cast propped on the console. She drove me to my first counseling appointment at Burden Bearers–an important step on my journey toward healing.
A burden bearer was exactly what I needed–and what Jesus commands us to be for others, like my friend was for me.
Galatians 6:2 tells us: Carry each other's burdens, and in this way you will fulfill the law of Christ.
It's true that sometimes we feel too weak and overwhelmed to carry another person's burdens. That's when God sends people to help us. Since my knee injury, I've had many opportunities to help someone else who's carrying a heavy load. It's usually in an area where I've also walked and learned and grown–and experienced God's faithfulness and mercy.
I love the story from the book of Mark, about the paralytic man who is carried to Jesus on a mat by his four friends. They're convinced Jesus can help him. When they can't get close enough to Jesus because of the crowds, they take matters into their own hands.They climb up on the roof and make an opening so they can lower their paralyzed friend down –right in front of Jesus. That took some boldness. I probably would've said, I guess we aren't going to see Jesus today…and resigned myself to that. But these friends were determined. They were desperate to help their friend. We will get him to Jesus–no matter what! These friends are burden bearers in every sense of the word.
So what does it mean to come alongside someone in a time of need? How can you be a burden bearer?
You don't need all the answers or a degree in counseling. You need to be willing to listen and offer support. Let your friend know she isn't walking this road alone. Sometimes your quiet presence means everything.
Be a "roof ripper," as a friend of mine described the actions of the paralytic man's friends. Step out of your comfort zone. Send the note or email. Even better, make the phone call. Offer to be a burden bearer.
It's easy to get caught up in our daily routines and not be aware of others who are hurting. Bob Pierce, the founder of World Vision, said:
Let my heart be broken by the things that break the heart of God.

And then help me do something about it. Take action. Get beyond my own self-centered thinking. Lord, help us be connected with others so we'll know when there's a need.
Our world is filled with hurt and pain. You don't have to look far to find opportunities to reach out to others who are struggling. I can hardly imagine where I'd be today if I hadn't had friends who came to carry me through some tough times. I am so grateful for the opportunity to pass this comfort on to others.
Praise be to the God and Father of our Lord Jesus Christ the Father of compassion and the God of all comfort, who comforts us in all our troubles, so that we can comfort those in any trouble with the comfort we ourselves have received from God. 2 Corinthians 1: 3-4
Who is in your life who needs a burden bearer?