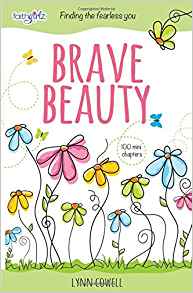 While reading Brave Beauty, a devotional for tween girls,  I couldn't help but think of how much I would've appreciated a book like this when I was growing up. Those preteen years are the beginning of an awkward time for girls. I remember having so many doubts about myself and whether or not I fit in. Author Lynn Cowell does an excellent job making readers feel understood and valued.
The book is comprised of 100 mini chapters, courage-building ways for readers to find answers by growing confident in God. Topics range from family, self-worth and friends, to faith, forgiveness and loving difficult people. The author uses a simple, yet effective style to communicate godly wisdom. Each chapter includes a brief example/story followed by a "Becoming Brave" practical challenge and a "Courageous Call" to action. The bite-sized chapters will appeal to young readers–and "older" readers, too, as I find myself looking forward to what's coming next!
The author offers this gem: It takes bravery to be a girl who thinks people are more important than things. The culture we live in makes "stuff" like clothes and the newest phone so important. A brave beauty recognizes that people are more important than things.

So true and important for girls to learn this when bombarded by a culture that values materialism.

If you have a young girl in your life, get her Brave Beauty. It could be life-changing!