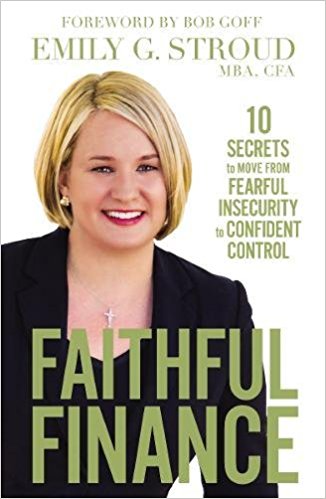 Emily G. Stroud's warm "across-the-table" style makes Faithful Finance more than an excellent "nuts" and bolts" finance book. With more than twenty years of professional experience, Emily has packed  this book with the gamut of financial information. Topics include choosing a financial adviser, budgeting, investing, buying a home, saving for college, planning for retirement, estate planning, and much more. It's an easy, interesting read that offers practical, but simple life-changing advice.
Even though I've taken Dave Ramsey's Financial Peace University course, I found Faithful Finance to be a helpful review and reference. Each chapter focuses on one of ten principles that help you manage your money more wisely.
I especially appreciated the author's Christian perspective on giving:
You may be surprised to hear this, but God does not need your money. He is God. However, what he wants is a relationship with you and your heart. He wants you to be content with what you have and to give without compulsion. God wants you to be committed to giving generously , even if it's not popular, easy, or financially profitable for you. Typically, people who give generously to their church and to those in need, grow both spiritually and emotionally…
I highly recommend this book whether you've just launched out on your own or if you're seeing your retirement days approaching. There's something for everyone in this practical financial guide.
I received this book from Handlebar Publishing in exchange for an honest review.