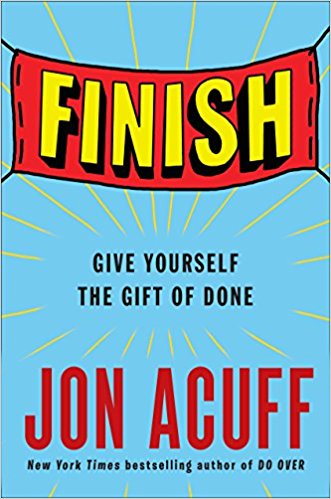 I admit it. I'm a procrastinator. From as far back as I can remember, I've struggled with getting things done–not to mention actually finishing them. I was the student pulling the "all-nighters," trying to get reports and term papers finished on time. Now why didn't I start this weeks ago instead of waiting until the last minute? I routinely asked myself.
I've been learning a lot about my procrastinator tendencies and why it's so hard to finish  projects with the help of Jon Acuff's excellent book  Finish: Give Yourself the Gift of Done. 
This book is especially timely with the beginning of a New Year. Did you know 92% of New Year's resolutions fail?  In fact, Jon Acuff says you have a better chance of getting into Julliard as a ballerina than you do at finishing your goals. I guess I'm in good company–not that I've ever attempted to get into Julliard. It didn't take long for me to realize the limitations of my ballerina aspirations!
Not only is this book chock full of great information, but it is laugh-out-loud funny. I love that about Jon Acuff's writing! Even though we may struggle to finish what we begin, at least we can laugh at ourselves as we learn new ways of accomplishing our goals.
For years, I thought my problem was that I didn't try hard enough. So I started getting up earlier. I drank enough energy drinks to kill a horse. I hired a life coach and ate more superfoods. Nothing worked, although I did develop a pretty nice eyelid tremor from all the caffeine. It was like my eye was waving at you, very very quickly.  -Jon Acuff
How many of us can relate? We tend to think, "I must be lazy or I'm not trying hard enough." Acuff talks about the real culprit being perfectionism. Maybe a lot of us don't even begin because it's too hard and we know we'll never be perfect. He says Day 1 is not the most important day of a goal. Instead, it's the "day after perfect." We have to power past this "day after perfect." We'll feel uncomfortable in the process, but we'll be able to make progress. We don't have to be perfect. The goal is finished, not perfect. That's a relief!
When setting goals, as many of us are inspired to do in January, we need to be realistic. Acuff recommends cutting our goals in half because we tend to set goals that are foolishly optimistic. Also, many of us believe we can do it all. According to Acuff, "You can't do it all. I'm here to tell you that you can't."
He also recommends goals that have an element of fun woven into them. We tend to think that working toward any worthy goal has to make us miserable. Not so! In fact, we're more likely to get it done if it's fun.
So if you're anything like me, always procrastinating and never quite finishing, you will find Jon Acuff's book a breath of fresh air–and an inspiration to make this year the one you finally give yourself the "gift of done!"