I'm always excited about receiving a new devotional book, and this book by Joni Eareckson Tada is no exception. In my opinion, she is one of the most qualified individuals to write about showcasing God's glory.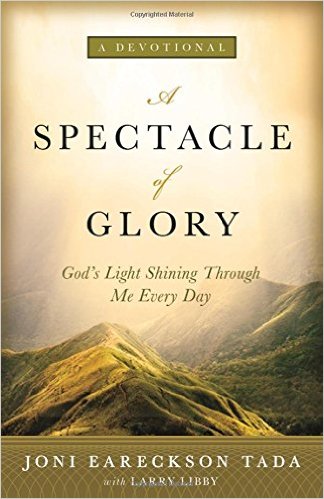 She has done this beautifully as she has learned, by God's grace, how to live with the chronic pain and suffering of quadriplegia for nearly 50 years. I can't imagine…
Her inspiration touched my life profoundly when I read her book, Joni, in the late 1970s. She wrote about the diving accident that left her paralyzed as a teen and how she wrestled to accept that God could use her life more  to impact others from a wheelchair than if she could walk. Her faith and wisdom has only matured through the years. Her latest book, A Spectacle of Glory, is a 365-day devotional that offers comfort and hope to anyone who is struggling with difficult circumstances.

Each devotional focuses on a Bible verse, followed by a short reading that encourages readers to allow God's light to shine through them, no matter what they're going through. The daily offering ends with a heartfelt prayer.
In one reading, Joni refers to Psalm 46:1. "God is our refuge and strength, an ever-present help in trouble." She writes: When you are in trouble, God doesn't just send help; He is your help. And this help is ever-present.
Joni's writing is transparent, real, and encouraging. There's a calmness and simplicity in what she shares, yet a gentle authority. Her daily insights will help you discover how to put God's glory on display–how to say "no" to complaining and "yes" to following God as you walk the most difficult paths. I like this book because I feel like I have a friend accompanying me on the journey–someone who really knows the ropes when it comes to dealing with pain and suffering.
Handlebar Media provided a free copy of this book for my honest review.