This picture book may have been written for girls, ages 4-8, but this grown-up girl (me!) finds it delightful. Stories of fourteen incredible women from the Bible fi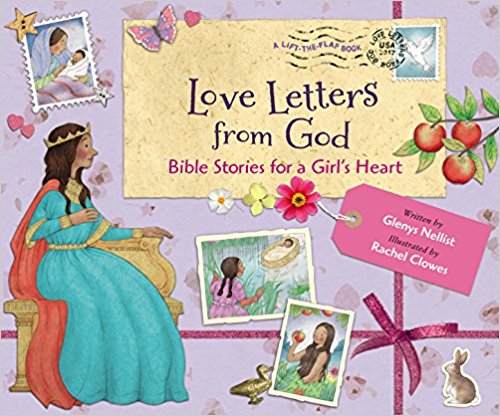 ll the pages. Eve (The First Girl), Miriam (The Trusting Girl), Martha (The Busy Girl) are a few women whose inspiring stories are told. The author, Glenys Nellist, uses warm, easy-to-understand language to bring these Bible stories to life. Rachel Clowes' illustrations are charming.
What makes this book unique is the lift-the-flap love letters from God that accompany each story. These sweet letters show a personal, tender, loving God who cares about each girl. As I read God's love letters, I couldn't help but mentally add my name on the blanks provided.
Dear Deb……Can you imagine how thrilled I was when I saw Eve? She was the very first girl I made, and she made creation complete. Did you know I feel the same way when I see you?
Talk about heart-warming! I'm excited to give this book to my granddaughter who celebrates her 5th birthday soon. I've written "Lucy" as the recipient of  each letter. She'll be delighted to see the letters addressed to her.
If you have a little girl in your life, this book is perfect to show her how much God loves her. You might even enjoy reading it to yourself first!