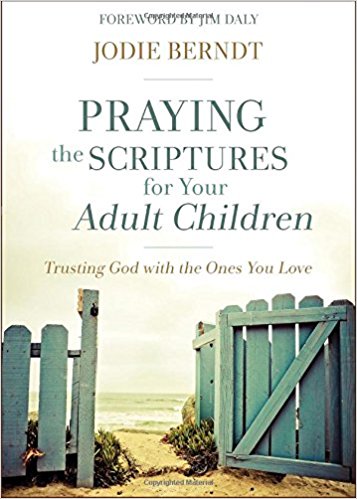 I'm a mom of two adult sons. I've learned no matter what age they are, you never stop worrying or caring about them. That's why Jodie Berndt's excellent book, Praying the Scriptures for Your Adult Children is so appealing.
Each chapter focuses on some aspect of your adult child's life. These are what keep moms awake at night as we search for just the right words to pray. Topics include praying for a future spouse, a young marriage, a troubled marriage, finding the right job, and finding friends who are supportive and encouraging. The author has interviewed many other parents and shares their own stories and struggles to let go of their adult children. I love hearing from other parents who have come through challenging times. There's something powerful  about knowing you're not alone–and to be reminded that we really can trust God with the ones we love.
What a privilege it is for us, as parents, to be able to slip our hand into the hand of our heavenly Father and join him in the continuing work that he is doing in our adult children's lives. And what a joy, as we allow the words of Scripture to shape our perspective and transform our prayers, to be given a window into God's heart. -Jodie Berndt
The author uses "prayer principles" throughout the book to highlight important truths. Each chapter ends with real prayers drawn from scripture that you can use for yourself and for your children.
I now consider this my "go-to" book to help me pray for my sons and my daughter-in-law.  As Jodie Berndt says, "It's never too late to start praying God's best for your children."
Thanks to Handlebar Publishing for providing a copy of this book in exchange for an honest review.