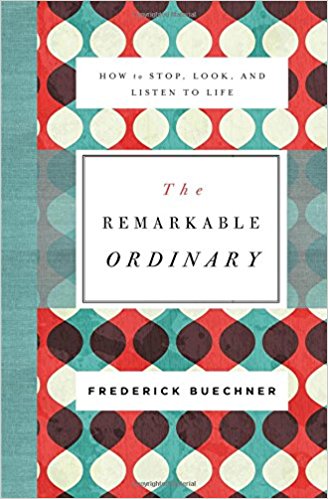 I have long been an admirer of Frederick Buechner's wisdom. This book is no exception. It is based on a series of mostly unpublished lectures. The author encourages us to take a moment to see what's really around us. With life's hectic pace, we often don't see what is remarkable. He talks about art (writing, painting, music) as a medium for helping us see what is meaningful. Buechner says to take time to stop, look, and listen–and we will be amazed at what we find!
"So, art is saying Stop. It helps us to stop by putting a frame around something and makes us see it in a way we would never have seen it under the normal circumstances of living, as so many of us do, on sort of automatic pilot, going through the world without really seeing much of anything…So, stop and see. Become more sensitive, more aware, more alive to our own humanness, to the humanness of each other."
Frederick Buechner's writing style is easy to read, conversational–like talking with a good friend. He points out that we need to pay attention–really notice what's going on around us. As a theologian, he ties these ideas with his biblical faith. Paying attention to being alive is important. Paying attention to each other and to God, to how he's moving and speaking or where he's trying to take you.
Listen for God, stop and watch and wait for him. To love God means to pay attention, be mindful, be open to the possibility that God is with you in ways, that unless you have your eyes open, you may never glimpse. He speaks words that, unless you have your ears open, you may never hear. Draw near to him as best you can.
I love the story he tells about a Christmas Eve in Vermont. He had told his neighbors he would take care of their sheep while they were away. He nearly forgot that evening with all of the holiday activities, but then remembered. As late as it was, he and his brother trudged through snow to the neighbor's barn. It struck him that there he was in a barn with sheep and a manger on Christmas Eve. With all the busyness of the Christmas season, we sometimes forget to notice what it's really about.
Buechner encourages us to love others. He notes we would be overwhelmed if we stopped to look and listen to every person who passes by. But he says, "We can surely do more than we do!"
The Remarkable Ordinary has helped me look for God's extraordinary work in life's seemingly unimportant routines. What a gift!
* I was given a copy of this book by the publisher in exchange for an honest review.