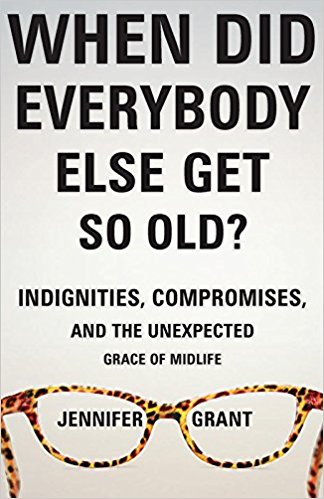 Aging well is a topic I'm always interested in–and Jennifer Grant's memoir about her forties is an  honest, transparent, and humorous look at midlife. She's an excellent story-teller and I enjoyed hearing about her aging experiences–wearing what she thought were "cool" Elton John-like glasses–only to have her teenage daughter weigh in with her more- than- honest assessment. "You look old and weird in those glasses, Mom."
The author poignantly describes the transitions we go through with our children. Would we want to go back to those sweet early years when they willingly place their little hands in ours when we cross the street, or get excited about something as simple as finger-painting?   Grant says no, she wants to look forward to who those children will become. She doesn't want to get stuck looking back at those "good, old days"–even though letting go isn't easy. It seems that one day our children are sweet and innocent and the next you're looking at college applications with them. I can relate! Even though I'm well past the middle-age years Jennifer Grant writes about, I can still remember the ache I felt when I walked past my oldest son's empty bedroom after he left for college. Yet this book offers hope of moving past these empty-nest feelings.
The author writes wisely about the physical, emotional and spiritual challenges of aging and the changes we face throughout our lives–celebrations, sorrows, and joys. She concludes with the wisdom of Solomon from the book of Ecclesiastes: There is a time for everything.
I enjoyed this book, but I am disappointed by the author's interpretation of the parable of the ten bridesmaids (Matthew 25) in her book's final chapter. As a Christian, I believe it's important to consider the full counsel of Scripture when interpreting passages such as this one.
I received this book from the publisher in exchange for an honest review.