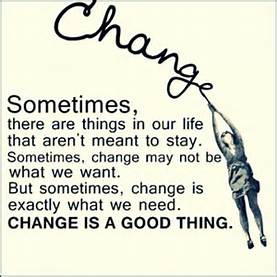 Change is something I've always resisted. From the time I was 13- years old and my dad announced we were moving from my small Midwestern hometown to a quaint "village" in Pennsylvania, to all the current changes, including retiring from my day job. Change is hard no matter what the circumstances. Even a positive change, such as retirement, can be challenging.
Twenty-one years ago, Randy and I decided to move from the Seattle area to the tiny town of Winthrop, Washington. I remember the combination of excitement and stark fear as we took on this new adventure. I also recall how hard it was to put the "for sale" sign outside our familiar home, the one where our sons had grown up. It was tough loading up all our belongings into that Ryder truck on a late November day. Then we drove across the mountains to an unfamiliar place where the only person we knew was a real estate agent. It wasn't easy, but I've never regretted that decision. I had to let go of what was familiar in order to embrace what was new and ultimately best for us.
The perspective of hindsight is so interesting–and encourages me to welcome future changes. What I see as I look back through many years, is that most changes I've faced have impacted my life in a positive way.
It's often hard to see at the time, though. At 13, I thought my world had come to an end when I left my dearest childhood friends. My dad had tried to point out the positive aspects of this move which I stubbornly refused to consider. In retrospect, Dad was right. Even though I loved Iowa, moving across the country gave me more vision for what might be out there in this big world.
When I married Randy and we began moving around the country–and the world–with the Air Force, Dad never lamented that he'd miss us and his grandchildren. He was always a cheerleader, saying how great it would be for us to explore the Far East and the other stateside places where we were stationed. "Now we have another new place to come visit," he'd say with so much optimism I almost believed him.
Of course, there are changes that are anything but positive. Illnesses, job losses, and the loss of loved ones are beyond difficult. In the past decade, Randy and I have lost both his parents and my dad. And we're all too aware of my mom's aging–and ours as well!
I'm finally learning to accept that change is inevitable. Since that's the case, why not embrace change instead of fighting it? I learned a long time ago  in Al-Anon that acceptance is the answer to most of my problems–especially those situations I can't control.
So what does embracing change look like?
Look back, but don't stare. Instead of wringing our hands about those "coulda/shoulda/woulda" experiences, we can consider what we would do differently, what we can learn from those situations. Sometimes you just have to cut your losses and move forward.
Be intentional about treasuring moments with loved ones. Losing someone we love will always be difficult. Instead of fearing what is inevitable with aging parents or other loved ones, by being intentional with our time, we will have an abundance of memories and gratitude for the ways this person has impacted our lives. A beloved physician who practiced in our town for several years, recently passed away from cancer at the age of 62. A friend wrote on her online memorial/tribute page how she had told Cynthia how sad she was to be losing her. Cynthia reassured her, "Yes, but just think of how lucky we were to have had this much time together."  What an amazing perspective–and one I want to remember!
Remind yourself that change can be good! Sometimes when an unexpected change comes and knocks us off our feet, there's ultimately something positive that can come from this experience. A job loss can lead to an unexpected opportunity, one you wouldn't have considered before, or an injury that sidelines you for a while can give you perspective on the direction you're headed with your life.
I'm all too aware as we embark on a new year, change can be expected and even welcomed. I'm telling myself, Don't be afraid of change. Don't get so settled into your comfortable routine that you miss new opportunities.
So when the trapeze of change swings in your direction, have courage to grab hold and then let go. It might be the best thing that's ever happened to you!
What changes are you facing right now that seem scary?  Let me know…it will be a privilege to pray for you!