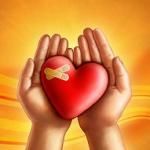 Maybe it's just me, but it seems like social media conversations are often lacking in compassion. There doesn't seem to be much restraint as people are quick to vent their emotions online.  The result is a nasty, mean comment that hurts!
I recently read a troubling conversation thread on Facebook. My friend had posted a picture of her son who would have turned 34 that day. The photo showed him on an earlier birthday, blowing out candles on a cake. My friend simply wanted to remember him in better times. Last fall,  he was killed in a tragic series of events. Sadly, he had suffered from mental illness. One day he snapped and killed three people on a random shooting spree near his apartment. Then police shot and killed him. There's no way to understand the intensity of pain and anguish felt by each person affected by this tragedy. This would be any parent's worst nightmare.
Most people who commented on my friend's Facebook post had only words of compassion and support. Really, it's impossible to find the right words. Then as I scrolled down the page, the mother of one of the victims weighed in expressing her raw anger and bitterness. The conversation that ensued seemed like a posting free-for-all. My heart ached for my friend and for this mom who are both dealing with an enormous burden of grief. I was thankful for a few voices who brought some reason and compassion into this volatile exchange of words.
Social media has brought many positive changes–the ability to communicate with a large audience, to keep in touch with friends by simply sending out a short update. Text messaging makes it possible to contact people quickly and efficiently. But lately, I've been more aware of the downside. Maybe it's because you don't look into the eyes of the person you're communicating with, that makes it easier to send out brutal comments and criticism. People are quick to judge the mother whose child climbed into the gorilla habitat at the Cincinnati Zoo or the parents of the toddler who was attacked and killed by the alligator at Disney World. You just write whatever is on your mind and then hit send. There's no compassion or even an attempt to understand what the people involved are experiencing. The biggest problem with social media communication? Once those words are hurled into cyberspace, there's no way to retrieve them. The sting of negativity is there forever. It used to be that when you had a verbal confrontation with another person, there might only be a few witnesses, if any. Now, a Facebook or Twitter post can be viewed by hundreds if not thousands or even more.
Last Sunday, my pastor talked about how damaging words can be. He referenced James 3:1-12, a scripture passage that tells about how something as small as our tongues can be so destructive–just as a small spark can start a huge firestorm. (Something we're painfully aware of here in central Washington as another fire season begins). The same guidance for speaking can be applied to our social media conversations. Instead of rushing to comment and pass judgment on others, maybe we should pause and ask ourselves the three questions Pastor Jeff mentioned in his sermon:
1. Is it true?
Do we know the facts about what's being said–or is it hearsay?
2. Is it helpful?
Is what we're considering passing along something that will have a positive impact?
3. Is it necessary?
How important is it that we share this information?
Maybe when we feel strongly about joining a social media conversation, we need to put love and compassion first and leave judgment and criticism behind. Most of us are struggling through life to do the best we can. And if there's a need to confront or express our opinion, we can consider how to communicate this in the most loving way possible.
How do you respond to negative comments on social media?