Only action becomes love.  Bob Goff, Love Does
Always be on the lookout for the presence of wonder. -E.B. White
I saw my gra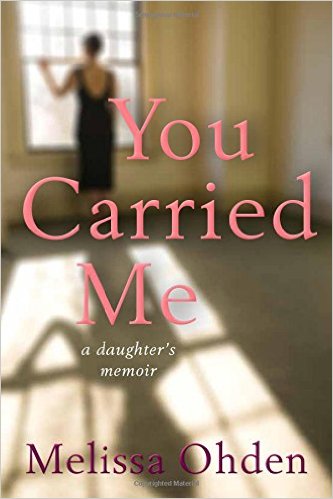 nddaughter Lucy's face for the first time on an ultrasound when her mom was about 20 weeks pregnant. The clarity of her facial features took my breath away. I fell in love at first sight!
I couldn't help but think of my experience with baby Lucy when I read Melissa Ohden's powerful memoir, You Carried Me. Her birth mother was farther along in her pregnancy than when my daughter-in-law had her ultrasound. The circumstances were tragic. Melissa's mother had a failed abortion. Instead of dying from the poisonous saline solution administered to abort her, baby Melissa was born alive, weighing in at 2 lbs. 14.5 oz. She was adopted by a loving couple who were willing to take on the special needs Melissa might have as a result of the botched abortion. Miraculously, Melissa had no long-term medical complications. 
She discovered at age fourteen that she was an abortion survivor. Melissa had known from an early age that she had been adopted. Finding out that she was aborted and then survived, threw her into an emotional tailspin. Her courage to persevere in the midst of heartbreaking circumstances is inspiring. As a young adult, Melissa began a decade-long search for the truth about her birth and her birth parents. The outcome is nothing short of miraculous. At times while I was reading this book (which I could hardly put down), I had to remind myself "this is a true story."

Melissa is honest and straight-forward as she tells her story, yet she's careful to protect the identity of her birth parents. The level of healing and forgiveness the author has experienced in dealing with circumstances clearly out of her control, is a testimony to her faith. It seems Melissa's life was spared for a greater purpose–to become a voice for the unborn and an advocate for women, men, and children impacted by abortion.

I'm always excited about receiving a new devotional book, and this book by Joni Eareckson Tada is no exception. In my opinion, she is one of the most qualified individuals to write about showcasing God's glory.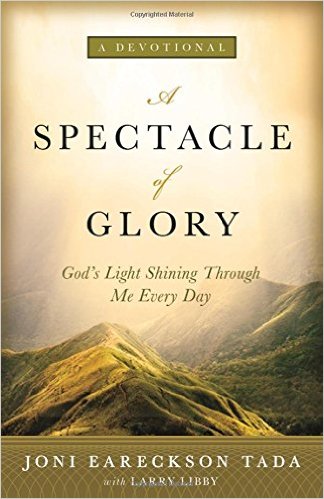 She has done this beautifully as she has learned, by God's grace, how to live with the chronic pain and suffering of quadriplegia for nearly 50 years. I can't imagine…
Her inspiration touched my life profoundly when I read her book, Joni, in the late 1970s. She wrote about the diving accident that left her paralyzed as a teen and how she wrestled to accept that God could use her life more  to impact others from a wheelchair than if she could walk. Her faith and wisdom has only matured through the years. Her latest book, A Spectacle of Glory, is a 365-day devotional that offers comfort and hope to anyone who is struggling with difficult circumstances.

Each devotional focuses on a Bible verse, followed by a short reading that encourages readers to allow God's light to shine through them, no matter what they're going through. The daily offering ends with a heartfelt prayer.
In one reading, Joni refers to Psalm 46:1. "God is our refuge and strength, an ever-present help in trouble." She writes: When you are in trouble, God doesn't just send help; He is your help. And this help is ever-present.
Joni's writing is transparent, real, and encouraging. There's a calmness and simplicity in what she shares, yet a gentle authority. Her daily insights will help you discover how to put God's glory on display–how to say "no" to complaining and "yes" to following God as you walk the most difficult paths. I like this book because I feel like I have a friend accompanying me on the journey–someone who really knows the ropes when it comes to dealing with pain and suffering.
Handlebar Media provided a free copy of this book for my honest review.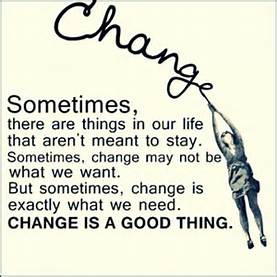 Change is something I've always resisted. From the time I was 13- years old and my dad announced we were moving from my small Midwestern hometown to a quaint "village" in Pennsylvania, to all the current changes, including retiring from my day job. Change is hard no matter what the circumstances. Even a positive change, such as retirement, can be challenging.
Twenty-one years ago, Randy and I decided to move from the Seattle area to the tiny town of Winthrop, Washington. I remember the combination of excitement and stark fear as we took on this new adventure. I also recall how hard it was to put the "for sale" sign outside our familiar home, the one where our sons had grown up. It was tough loading up all our belongings into that Ryder truck on a late November day. Then we drove across the mountains to an unfamiliar place where the only person we knew was a real estate agent. It wasn't easy, but I've never regretted that decision. I had to let go of what was familiar in order to embrace what was new and ultimately best for us.
The perspective of hindsight is so interesting–and encourages me to welcome future changes. What I see as I look back through many years, is that most changes I've faced have impacted my life in a positive way.
It's often hard to see at the time, though. At 13, I thought my world had come to an end when I left my dearest childhood friends. My dad had tried to point out the positive aspects of this move which I stubbornly refused to consider. In retrospect, Dad was right. Even though I loved Iowa, moving across the country gave me more vision for what might be out there in this big world.
When I married Randy and we began moving around the country–and the world–with the Air Force, Dad never lamented that he'd miss us and his grandchildren. He was always a cheerleader, saying how great it would be for us to explore the Far East and the other stateside places where we were stationed. "Now we have another new place to come visit," he'd say with so much optimism I almost believed him.
Of course, there are changes that are anything but positive. Illnesses, job losses, and the loss of loved ones are beyond difficult. In the past decade, Randy and I have lost both his parents and my dad. And we're all too aware of my mom's aging–and ours as well!
I'm finally learning to accept that change is inevitable. Since that's the case, why not embrace change instead of fighting it? I learned a long time ago  in Al-Anon that acceptance is the answer to most of my problems–especially those situations I can't control.
So what does embracing change look like?
Look back, but don't stare. Instead of wringing our hands about those "coulda/shoulda/woulda" experiences, we can consider what we would do differently, what we can learn from those situations. Sometimes you just have to cut your losses and move forward.
Be intentional about treasuring moments with loved ones. Losing someone we love will always be difficult. Instead of fearing what is inevitable with aging parents or other loved ones, by being intentional with our time, we will have an abundance of memories and gratitude for the ways this person has impacted our lives. A beloved physician who practiced in our town for several years, recently passed away from cancer at the age of 62. A friend wrote on her online memorial/tribute page how she had told Cynthia how sad she was to be losing her. Cynthia reassured her, "Yes, but just think of how lucky we were to have had this much time together."  What an amazing perspective–and one I want to remember!
Remind yourself that change can be good! Sometimes when an unexpected change comes and knocks us off our feet, there's ultimately something positive that can come from this experience. A job loss can lead to an unexpected opportunity, one you wouldn't have considered before, or an injury that sidelines you for a while can give you perspective on the direction you're headed with your life.
I'm all too aware as we embark on a new year, change can be expected and even welcomed. I'm telling myself, Don't be afraid of change. Don't get so settled into your comfortable routine that you miss new opportunities.
So when the trapeze of change swings in your direction, have courage to grab hold and then let go. It might be the best thing that's ever happened to you!
What changes are you facing right now that seem scary?  Let me know…it will be a privilege to pray for you!
It won't be long 'til we say hello to our baby granddaughter!
I learned today that I'm part of the Club Sandwich generation. According to Wikipedia, we're typically in our 50's or 60's sandwiched between aging parents, adult children, and grandchildren.  I guess they call this a "club" because there are so many of us–7-10 million!
It's a bittersweet time in my life. In December, my mom and I and my four siblings made the difficult but necessary choice to place my dad in a dementia care facility. We enlisted the help of an excellent aging well consultant, Liz Taylor/Aging Deliberately from the Seattle area.
"There are solutions," Liz told us. "All of them are difficult. But you can do this!" Her guidance and support steadied Mom and me, giving us courage and strength to do what was best for her and dad. To our surprise, the much-dreaded event of taking Dad to his new home went more smoothly than expected. Mom and I envisioned a tearful, heart-wrenching moment of leaving Dad there. Instead, our hearts were buoyed by the warm welcome Dad received from the staff. When we kissed him good-bye, he held up the Christmas cookie he was munching on and said, "See you soon!"
Of course, this has been a time of mixed emotions…grief in facing the loss of the dad I've known as he slowly slips into the fog of dementia. But also relief as we acknowledge the reality of his condition. This is without a doubt the very best for Dad–and Mom, who was exhausted by her heroic caregiving efforts.
On the other side of this long good-bye is a much-anticipated hello to a sweet grandbaby girl (our first grandchild!) who is due to arrive any day now. In January, I had the wonderful privilege of being with Jeremy and Jen for the baby ultrasound, a wow experience! The tech showed us some 4-D images of this tiny baby who weighed in at less than a pound. I uttered an audible gasp when the ultrasound wand brought her face into view, showing her features and perfectly formed hands with two fingers in her miniature nostrils. We all chuckled as I reached for the Kleenex–strategically placed for emotional parents and grandparents. What a moment…love at first sight! I can hardly wait to cradle her in my arms. These are the miracles of life, the comings and the goings, all in God's perfect timing…all to be cherished.
So instead of bemoaning the fact that I'm part of Club Sandwich–I want to focus instead on celebrating all of life.
How are you coping with being a member of this not-so-elite "club?"
It's hard to believe 2017 is right around the corner. It seems like I blinked and now it's mid-November. Approaching
  year's-end gets me thinking about what I've accomplished during the previous 12 months. Goal-setting has always been challenging for me. It seems easy enough to write down the goals, but a few weeks–or even days into the plan, and I'm already struggling. A couple of years ago, I signed up for Michael Hyatt's 5 Days to Your Best Year Ever goal-setting course. I felt like my first stab at it went well for 2015. I moved forward in several areas where I'd felt stuck–but still, I knew there was room for improvement. Last December when the opportunity came to take the course again, I decided to go for it!
I knew I needed extra help/coaching to keep going beyond what Michael calls "the messy middle"–the point where you just want to give up and throw in the towel. I signed up for the VIP plan which was a special offer for course alumni. What did I have to lose? Throughout the year, I've received a monthly coaching video from Michael as well as a quarterly Q&A session. It's so helpful knowing I'm not alone in this process. I can't say I've had perfect success with each goal, but I've made undeniable progress. Now that's something to celebrate!
I bought a large white-board to track my progress. There are lots of computer apps out there to help with this, but I like having something I can look at that's BIG! Some of my encouraging "wins" this year include launching my first self-published children's book (on my 2015 list, but I didn't quite get there) and retiring from my day job–a long-held dream that I finally got the courage to pursue. There will always be areas where I can improve — being more consistent with writing (now that I have more time) and being diligent with a weight-loss plan and exercise. What's so encouraging about this course, is that it's never too late to dig in and take those first steps forward. This course helps you get clear on what really matters and why it's important to you. Your "why"/motivation for reaching a particular goal is a huge component in being successful. You can ask yourself, "What will happen if I don't reach this goal?"
This is the 5th year for 5 Days to Your Best Year Ever. The course has been completely revised with a ton of valuable information added. One thing I can tell you without a doubt–any course or product Michael Hyatt offers is exceptional and well worth the cost. I'm a very grateful student. Because I'm so convinced of this course's value,  I decided to be part of Michael's launch team, helping to get the word out and encouraging you to check it out. It's really been a life-changer for me.
Michael will be offering some amazing free information in the next few weeks. I'll be sure to let you know how to access it. Even if you decide you're not interested in taking the course, the eBook, life assessment and webinar will be worth checking out.
Today is the first day of Michael's launch and he's offering an eBook, Achieve What Matters in 2017. This is an incredible download… with more than 30 thought leaders, influencers, and high achievers all sharing their top strategies for starting the year off with a bang.
You can get the whole PDF (no cost) here:
http://bestyearever.me/a20085/2017ebook
You'll recognize many of the names as they include
multiple best-selling authors, speakers, and
leaders of their respected fields.
People like:
Tony Robbins
John Maxwell
Dave Ramsey
Marie Forleo
Andy Andrews
Jeff Walker
Amy Porterfield
Lysa TerKeurst
Andy Stanley
Chalene Johnson
Lewis Howes
(and many others)
It's all available here:
http://bestyearever.me/a20085/2017ebook
Enjoy!
P.S. As we get closer to the start of 2017, the
timing on this couldn't be any better. The
insights were pretty incredible. Take a look
for yourself!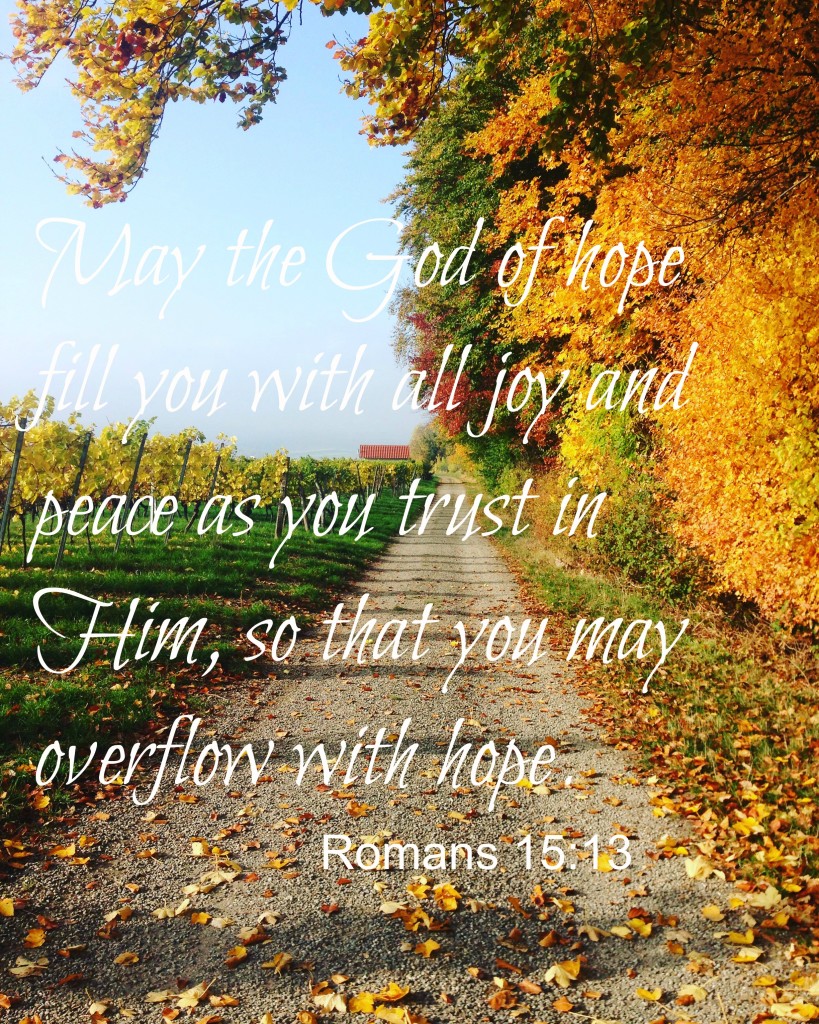 New Hope for Marriage Weekend Retreat…for wives who are struggling in their marriages and looking for refreshment and hope. Join Christie Miller and Deb Kalmbach in the beautiful Methow Valley and get ready to be encouraged! Contact: Christie@FreshLookThinking.com or debkalmbach@centurytel.net
| | |
| --- | --- |
| Date: | October 28, 2016—October 30, 2016 |
| Time: | 16:00 |
| Event: | New Hope for Marriage Weekend Retreat |
| Topic: | Hurting marriages |
| Public: | Private |
Coming Soon: Kosmo's Christmas Delivery
I'm so excited about the upcoming launch of Kosmo's Christmas Delivery. I had a hunch our dogs, Kramer and Kosmo, would be excellent characters for a children's book. They've certainly racked up enough adventures over the past 15 years with a significant amount of trouble accompanying their antics. Yep, that's capital T for trouble! I once thought if Kosmo were a monkey, he could be Curious George's cousin. How can one small dog create so much chaos?
Even though Kosmo's Christmas Delivery is fiction–it's inspired by real life events. No doubt about it, Kosmo is a big dog in a little dog's body. He likes to hop on board the UPS truck when we have a delivery, charge into the grocery story if he's off-leash and the doors conveniently open, or race through any local restaurant–if the doors are open. In fact, if any door is open, it's a neon sign inviting Kosmo to come right in!
Once when Kosmo escaped in my parents' neighborhood, an open door to a neighbor's house looked particularly inviting. A man sat on a couch reading with at least 5 cats perched behind him. Yikes! I could only imagine the bedlam if Kosmo found that open door. I politely asked the man if he minded closing his door so we could avoid all that.
Another time, Kosmo got loose when we were visiting our son. Even though his back yard was fenced, that sneaky Kosmo found a way out. We searched the neighborhood and couldn't believe it when we saw Kosmo leading a parade of other dogs who were chasing him, followed by a frustrated dog-owner trying to retrieve his dog.
Joey Palmberg, Kosmo's illlustrator, is working hard to complete the illustrations which are beyond cute. It's been fun to see how pictures bring the story to life. I can't wait to finish the book so we can send it out into the world. We're planning a mid-October release. Stay tuned!
One person with courage is a majority.  -John Maxwell