Sometimes it seems much longer than two months since we loaded the last items into our car and drove away from what has been home for 22 years. In many ways, I feel like like I'm on an extended vacation. Any day now, we'll drive those familiar country roads that have taken us home for more than two decades. I wake up in the night and wonder, where am I?  We've stayed in so many different locations lately. My head knows we've made a major change, but my heart is slow to catch up.
Since change is never easy, what steps can you take to embrace your new situation? Here are a few that are helping me:
Find a routine and stick with it.
Try to have some  sense of order to your days–especially when everything around you seems chaotic. Since my husband Randy and I are retired, we don't have a structured work schedule. Instead, we've been building some order into each day. We take an afternoon walk, stop by the local Starbucks for coffee or plan meals at the "usual" time. Familiar routines make any place seem more like home.
Acknowledge your feelings.
It can feel uncomfortable being in a place where you don't know anyone–at least not yet. And change can bring feelings of loss and sadness. It's OK to feel this way! It won't last forever. I'm convinced of that!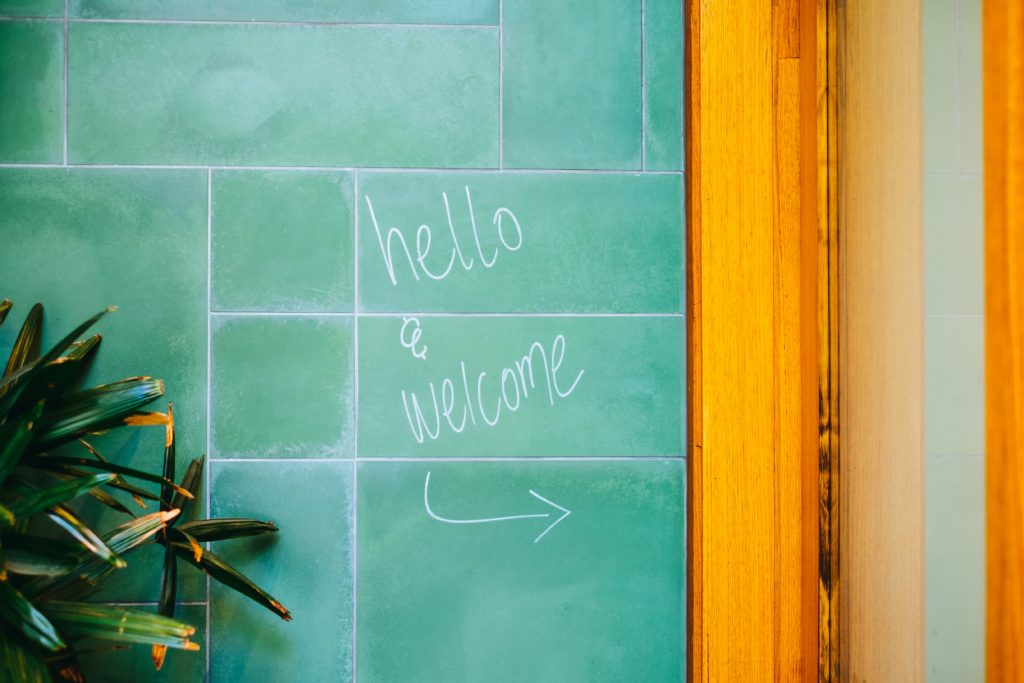 Step out of your comfort zone.
Being part of a church community is important to us, so we've visited some new churches. Even though everyone has been welcoming and friendly, it's still difficult going somewhere when you don't know anyone. I realize even more how important it is to extend a warm welcome to a newcomer. I've stepped out of my comfort zone, and I'm now attending a women's Bible study and some exercise classes at the local gym. I'm glad I made myself go!
Don't stare at the closed door so long that you miss the open one.
I love this quote by Helen Keller. It's good to remember when you're missing what's familiar. You will never go forward as long as you look backward.
When one door of happiness closes, another opens; but often we look so long at the closed door that we do not see the one which has been opened for us. -Helen Keller
Be fully present in the moment.
I've always appreciated the wisdom of Al-Anon, a support group for families and friends of alcoholics.  Just for Today is great advice–being right where you are in this moment. Not longing for what has been or projecting what may be coming in the future. Just for Today I can be grateful for where I am this very moment. When I consider our many blessings, I can't help but be filled with gratitude.
Know that God has a purpose in placing you exactly where you are.
When Randy and I decided to move across the mountains to the west/"wet" side of the state, we had a purpose for making this monumental change. We wanted to be intentional with our choice to live closer to family members. When we remember our "why," it makes the "what" much easier.
Last January, I started using a huge calendar that's spread out so you can see the entire year. I remember looking at everything on my plate–preparation for multiple speaking engagements, writing projects, getting the house de-cluttered and ready to put on the market, and moving–if and when our house sold. At the top of the calendar I wrote with a black sharpie,  The One Who Called You is Faithful and He Will Do It!" ( 1 Thessalonians 5:24) And He has! We've walked through each challenge on that calendar and come out on the other side. How encouraging to look at the 2+ months left in this year–not to mention what unknowns lie ahead–and be reminded that God is always with us, always faithful.
Are you facing any changes in your life? I'd love to pray for you.