I knew the day was coming, but I didn't expect it to arrive so soon. "Soon" is relative, because 15 years can seem like a long time or pass by in a blink. It's the blink side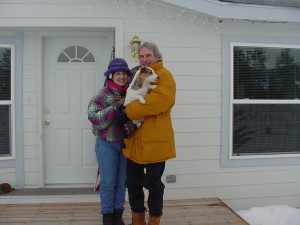 I'm experiencing today. We said goodbye to our faithful canine friend, Kramer, two days ago. The years had taken their toll and Randy and I couldn't bear to watch him struggle. Nights had become nearly impossible. Kramer paced incessantly through the house, getting stuck behind furniture or in corners, not seeing well enough to find his way out. Our hearts ache as we try to adjust to life without him. Anyone who has had a long-term relationship with a dog will know exactly what I'm talking about.
Kramer came into our lives on a July day in 2000, just before our 30th wedding anniversary. We drove two hours to the breeder's home. We'd planned to only "take a look" at the Jack Russell Terrier puppy who bounded up to meet us. It was love at first lick. And then we were driving home with the unexpected 3-month old pup passenger curled up on my lap. We decided he was our anniversary gift to each other.
And what a gift he's been! Our lives were turned upside down and our hearts inside out with love for this little guy who we christened as "Kramer." He needed a Hollywood name since Randy and I owned a video store in our small town. Every day, Randy packed up Kramer and his puppy paraphernalia and took him to our store, much to the delight of our customers. "Is Kramer in today?" they'd ask expectantly.
When Kramer turned one year old, we celebrated with a party at the store. Kramer secretly told me he wanted a chocolate cake with cream cheese frosting which was a big hit with his guests. They brought dog biscuit gifts and even called on the phone to wish him a happy day.
Kramer enjoyed stardom in our town's annual '49ers Days Parade. We drove the parade route in Randy's old '89 Lincoln Town Car festooned with Kramer banners and balloons. Children lining the one street through town squealed, "Look, there's Kramer!" Randy and I tried not to let it get us down that no one seemed to notice us.
As we grieve our loss, I'm reminded of how much we learned from Kramer's terrier traits.
Live every moment to the fullest!  Kramer lived at"turbo speed," throwing himself wholeheartedly into  quests for chasing chipmunks, digging holes to hunt for mice, or attacking the garden hose while we attempted to water the plants or wash the car.
Don't ever give up!  We marveled at Kramer's tenacity and what one small dog could accomplish. One day, he was intent on capturing a chipmunk that was hiding in an irrigation pipe. "Great," we thought. Kramer was occupied and we didn't have to worry about him for a while. Only problem was that after several hours of tussling with the pipe, he literally wore off the black part of his nose! Our vet assured us it would grow back.
Love without stopping! What we'll miss most is having this sweet dog with bright brown eyes filled with pure love, greet us at the end of every work day. No matter what kind of day we'd had, it was always better because Kramer was there to welcome us home.
I can't help but think that God sent him to us at a time when we most needed him. As Randy and I stood by his grave the other day, I realized how far we had come in 15 years. We had learned volumes about what really matters, the value of persevering, and how to love each other well. In this sad moment, we had leaned into the pain together. We stood with arms draped around each other, praying a farewell prayer to our faithful friend. Even though our lives will never be the same, we are grateful for God's special anniversary gift to us and memories to last the rest of our lives.