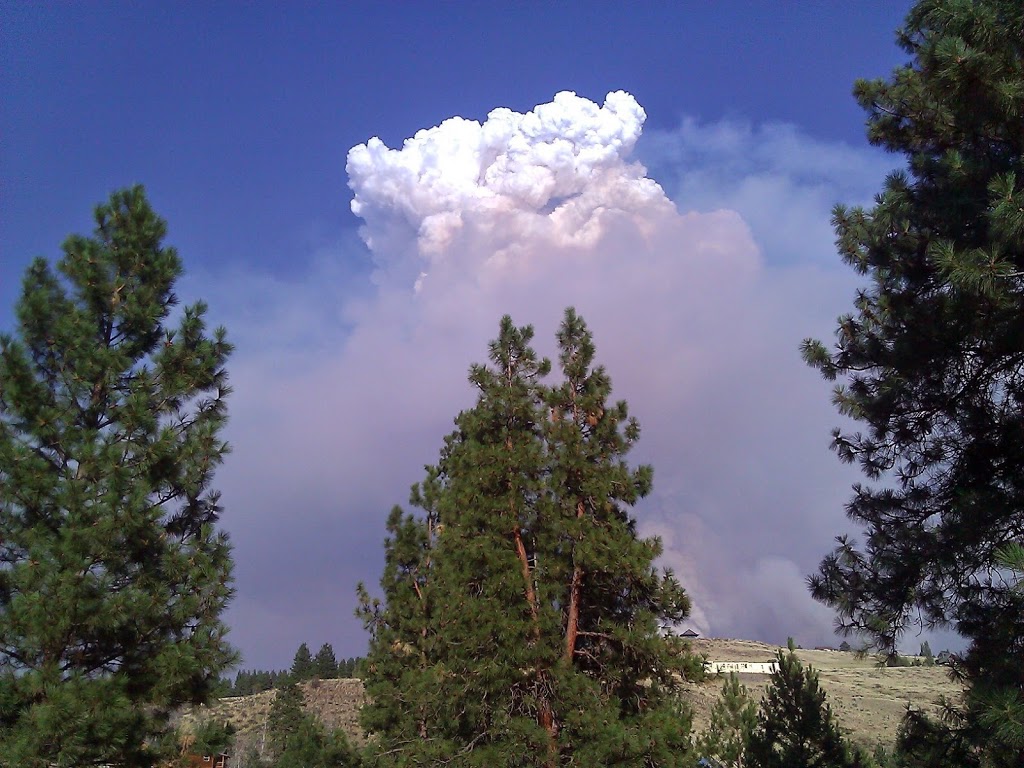 The view from our house on July 17, 2014
I've never been so happy to turn a calendar page as I was at the end of August. I flipped the page from August to September, breathing a guarded sigh of relief. Our world has been rocked by the firestorm that blew up on July 17. During the summer and early fall, wildfires are part of life here in hot, dry north central Washington. We've seen the mushroom-cloud smoke plumes that tower skyward. We've witnessed hillsides burning in the distance. The Thirtymile Fire in 2001 seemed relatively insignificant until it raged out-of-control, killing four young firefighters. I remember the somber gathering held at our local high school gym where we paid our respects. This heartbreaking tragedy caused the forest service to re-evaluate firefighting protocols.
But this year, the Carlton Complex Fire became the largest fire in Washington state history, burning more than 250,000 acres. Long-time residents say they've never seen anything like it. Unlike other fires, this one destroyed homes–more than 300 at last count. These are friends and neighbors who have lost everything. I can't imagine where you begin to start over. The fire, ignited by a lightning strike near Carlton, traveled more than 25 miles in less than 8 hours to burn hundreds of homes near Pateros. People barely had time to evacuate. It's nothing short of a miracle that no lives were lost that night and in the following days and weeks.
We were without power and water for 10 days in the area where I live. Others "camped" without electricity for almost 3 weeks. Everyone has been affected by the stress of living on high alert–not knowing if and when you'll have to evacuate or if a new fire will be ignited by lightning or something as random as a tire rim from a flat tire creating sparks. And if the fires weren't bad enough, mudslides caused by heavy rain and flash flooding several weeks later, washed out roads and destroyed more homes. It's hard to wrap my mind around the devastation.
Yet in the midst of disaster, you can't help but notice the bright spots. I think of the hardworking heroes who have given so much to our communities…the firefighters who relentlessly dug fire lines in 100 degree weather, the local PUD joined by other utility companies who worked 16-hour days to get the power on, Red Cross volunteers who came to lend a hand or a shoulder to cry on. Community centers and schools were transformed into shelters staffed by volunteers. Almost immediately, donations of supplies poured in. A statement said they couldn't accept any more donations. There simply wasn't room.
A benefit, "Blues for the Burn," was sponsored by the organizers of the popular summer Rhythm & Blues Festival. More than 400 people enjoyed an evening of music and dancing. Many came from out-of-town, wanting to support the beautiful Methow Valley and those who have lost so much. All proceeds went to our local food bank/charitable organization, "The Cove," who will distribute the funds. I'm amazed and moved by the generosity of our community.
In September, I had the privilege of helping at a fire relief clothing event sponsored by The Heart of CAbi Foundation and Independent CAbi Consultants. More than 90 women who had lost all their personal clothing in the fires or mudslides came to "shop" for brand new designer clothing–except they didn't need any shopping dollars. CAbi, a clothing company, donated 1,000 items of clothing. Each woman who attended went home with at least 10 free new outfits. I stood by to offer coffee, muffins, scones, and sandwiches–but most important, I listened to their stories of loss, gave hugs, and even helped dry some tears.
It seems like disasters, whether natural events, or tragedies like 9/11, tend to draw people together. Suddenly we're shoulder-to-shoulder, ready to help and encourage others wherever we can. Even though I pray we never have another summer like this one, I'm grateful for the overwhelming support we've received–and for this reminder:
The things that matter the most in this world, they can never be held in our hand. –Gloria Gaither

I've had a first-hand glimpse of this through those in our community who are bravely moving forward after losing so much.