My husband Randy and I recently celebrated 44 years of marriage.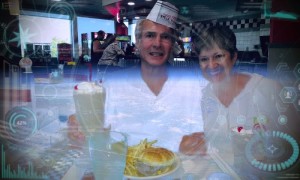 Our anniversary celebration at Steak 'N Shake
Wow–how can that be possible when we're only 30+ years old? Well… we haven't been that age for a long time, but it's still hard to imagine we've spent most of a lifetime together.
When we first got married, I had this naive notion that all we needed was love. All together now: All you need is love. Da…da…da…da… da…When I hear those words, I automatically want to burst into song. Never mind about the misunderstandings and the immaturity of two 19 year-olds who are going to become parents before their first anniversary. As long as we have love, we will stay together. Wasn't that also a song? Love will keep us together. If only it were that simple.
We do need love, but not the kind Hollywood portrays or most of us envision. I remember seeing the movie Love Story with Randy when we were dating. Ryan O'Neal and Ali MacGraw (can you believe she's 75?) looked deeply into each other's eyes and proclaimed, Love means never having to say you're sorry.
How sweet (and unrealistic) is that? But that's the love I was looking for…where romantic feelings never fade and you sail off together as best friends and lovers without a disagreement or ever raising your voice or crying yourself to sleep.
After 44 years and weathering many marital ups and downs, I've learned a lot about real-life relationships:
There's no such thing as 50/50 in marriage. Many times you'll be the one giving more than you bargained for. It would be nice if everything were split neatly in half. The reality is that each of you will be called on at different times to give more than your share. It's also good not to keep score.
Recognize the myth of the greener grass. It's possible there is "greener grass," but many of us see the grass and want to vault over the fence without considering the costs. The repercussions of an affair are devastating for everyone. Two families are directly affected, as well as extended family and friends. Life is never the same after trust in a marriage has been broken. God can heal and bring reconciliation, but the price paid is excruciatingly high.
Love the one you're with. What would happen if you intentionally treated your spouse as if you really loved him/her? Not the Love Story type of love, but love that's patient, kind, steadfast in sickness and in health, in good times and bad times. God's kind of love that never fails.
Randy and I have been blessed to experience this love in our marriage. It didn't come naturally, though. It took a lot of pain and struggle and heartache. We both realized the ability to love well was only possible if we were willing to get beyond our selfishness. As we experienced God's grace, we were then able to begin to love each other unconditionally. Not perfectly, but in a way that says I want the best for you. I'm willing to do whatever I can to encourage you, to build you up, to help you become the person God created you to be.
And guess what? I found out I married the right guy– the one who has been God's gift to me for almost a lifetime. And yes, we've learned that saying you're sorry is at the top of the list!
If you're struggling to love your spouse, there is hope! Small acts of kindness can be a good starting place. I would love to pray with you and encourage you to believe that God's love never fails. 
Interested in reading more about marriage? Check out these similar posts:
Marriage Advice for Wives: 5 Things I Wish I'd Known When I Got Married
Why You Shouldn't Give Up on Your Marriage