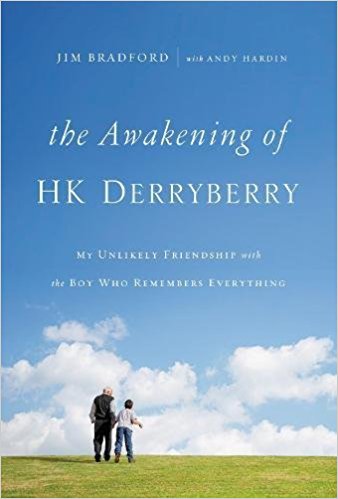 If you've ever wondered if one person can make a difference in someone's life,  read The Awakening of HK Derryberry and you will know the answer is a resounding yes!
The unlikely friendship between Jim Bradford, a senior business executive, and 9-year old HK Derryberry, a boy with multiple disabilities, begins on a cold October morning in 1999 when Jim stops at Mrs. Winner's Chicken & Biscuits in search of a cup of coffee. He almost misses the small boy sitting at a table at the back of the restaurant. When Jim sees HK, he feels an unusual emotional tug. He walks over to talk with the boy–something he almost never did. Jim writes that his encounter with HK that day revealed that he was a "pickpocket," because he had stolen Jim's heart.
And I would have to say they have stolen my heart as well. Jim Bradford's story reeled me right in from the first chapter. We learn that HK was born prematurely under tragic family circumstances. It is a miracle the baby boy survived, but he is blind, has cerebral palsy, and countless other challenges. As I read about the enduring friendship (16 years!) between Jim and HK, I felt my emotions welling up inside. It is inspiring to see how Jim and his wife, Brenda, invested their time and love for HK–and how many amazing possibilities opened up for a lonely little boy who needed a dad.
This is a must-read book. The touching story between a man and a special-needs boy will have you laughing one minute and in tears the next–and learning to look for the unlikely to cross your path.