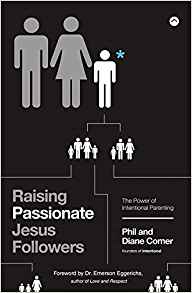 I have enjoyed Phil and Diane Comer's book, Raising Passionate Jesus Followers: The Power of Intentional Parenting. The authors who have been married for nearly 40 years, have raised four children and are grandparents to what they describe as a "cadre" of grandkids. Their life experience has equipped them to offer their seasoned advice for other parents.
…we invite you into our imperfect, messy, broken story so that you can catch glimpses of our Redeemer and the amazing grace He delights in bringing into your own less-than-ideal family.
They give real-life examples from their own experience about what did and didn't work for them. They're quick to admit their shortcomings as parents and the reality that there are no perfect parents. But being intentional in your parenting can make all the difference, they say. Raising Passionate Jesus Followers is a guide for creating in your child a heart that beats for God.
Strategies are given for parenting during different stages of child development. The Comers liken parenting to a building project: formulating the plan, laying the foundation (birth through age 5), doing the framing (ages 6-12), installing the functional systems (ages13-17), and opening the front door. 
I couldn't help but feel a little sad that my husband and I didn't have these skills when our children were growing up. Yet at the same time, there is confirmation that we did a lot of things right! The authors insights are helpful even now that we're grandparents.
Phil and Diane Comer provide biblically-based parenting guidelines filled with encouragement–no matter where you are on your parenting journey.  Their principles can be summed up in this way:
What matters most is loving God with passion and loving others on purpose.
It's this combination that gives children the opportunity to grow up to be passionate Jesus followers and to pass on this legacy to their own children.