Category Archives:
compassion
Only action becomes love.  Bob Goff, Love Does
I'm always excited about receiving a new devotional book, and this book by Joni Eareckson Tada is no exception. In my opinion, she is one of the most qualified individuals to write about showcasing God's glory.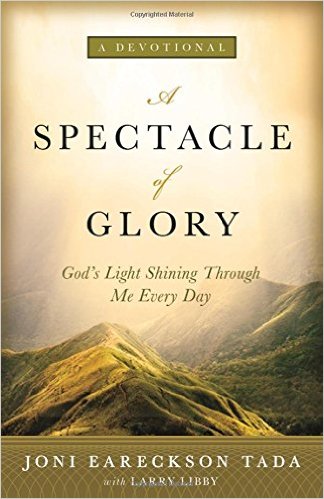 She has done this beautifully as she has learned, by God's grace, how to live with the chronic pain and suffering of quadriplegia for nearly 50 years. I can't imagine…
Her inspiration touched my life profoundly when I read her book, Joni, in the late 1970s. She wrote about the diving accident that left her paralyzed as a teen and how she wrestled to accept that God could use her life more  to impact others from a wheelchair than if she could walk. Her faith and wisdom has only matured through the years. Her latest book, A Spectacle of Glory, is a 365-day devotional that offers comfort and hope to anyone who is struggling with difficult circumstances.

Each devotional focuses on a Bible verse, followed by a short reading that encourages readers to allow God's light to shine through them, no matter what they're going through. The daily offering ends with a heartfelt prayer.
In one reading, Joni refers to Psalm 46:1. "God is our refuge and strength, an ever-present help in trouble." She writes: When you are in trouble, God doesn't just send help; He is your help. And this help is ever-present.
Joni's writing is transparent, real, and encouraging. There's a calmness and simplicity in what she shares, yet a gentle authority. Her daily insights will help you discover how to put God's glory on display–how to say "no" to complaining and "yes" to following God as you walk the most difficult paths. I like this book because I feel like I have a friend accompanying me on the journey–someone who really knows the ropes when it comes to dealing with pain and suffering.
Handlebar Media provided a free copy of this book for my honest review.
It won't be long 'til we say hello to our baby granddaughter!
I learned today that I'm part of the Club Sandwich generation. According to Wikipedia, we're typically in our 50's or 60's sandwiched between aging parents, adult children, and grandchildren.  I guess they call this a "club" because there are so many of us–7-10 million!
It's a bittersweet time in my life. In December, my mom and I and my four siblings made the difficult but necessary choice to place my dad in a dementia care facility. We enlisted the help of an excellent aging well consultant, Liz Taylor/Aging Deliberately from the Seattle area.
"There are solutions," Liz told us. "All of them are difficult. But you can do this!" Her guidance and support steadied Mom and me, giving us courage and strength to do what was best for her and dad. To our surprise, the much-dreaded event of taking Dad to his new home went more smoothly than expected. Mom and I envisioned a tearful, heart-wrenching moment of leaving Dad there. Instead, our hearts were buoyed by the warm welcome Dad received from the staff. When we kissed him good-bye, he held up the Christmas cookie he was munching on and said, "See you soon!"
Of course, this has been a time of mixed emotions…grief in facing the loss of the dad I've known as he slowly slips into the fog of dementia. But also relief as we acknowledge the reality of his condition. This is without a doubt the very best for Dad–and Mom, who was exhausted by her heroic caregiving efforts.
On the other side of this long good-bye is a much-anticipated hello to a sweet grandbaby girl (our first grandchild!) who is due to arrive any day now. In January, I had the wonderful privilege of being with Jeremy and Jen for the baby ultrasound, a wow experience! The tech showed us some 4-D images of this tiny baby who weighed in at less than a pound. I uttered an audible gasp when the ultrasound wand brought her face into view, showing her features and perfectly formed hands with two fingers in her miniature nostrils. We all chuckled as I reached for the Kleenex–strategically placed for emotional parents and grandparents. What a moment…love at first sight! I can hardly wait to cradle her in my arms. These are the miracles of life, the comings and the goings, all in God's perfect timing…all to be cherished.
So instead of bemoaning the fact that I'm part of Club Sandwich–I want to focus instead on celebrating all of life.
How are you coping with being a member of this not-so-elite "club?"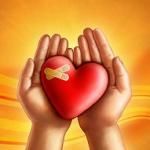 Maybe it's just me, but it seems like social media conversations are often lacking in compassion. There doesn't seem to be much restraint as people are quick to vent their emotions online.  The result is a nasty, mean comment that hurts!
I recently read a troubling conversation thread on Facebook. My friend had posted a picture of her son who would have turned 34 that day. The photo showed him on an earlier birthday, blowing out candles on a cake. My friend simply wanted to remember him in better times. Last fall,  he was killed in a tragic series of events. Sadly, he had suffered from mental illness. One day he snapped and killed three people on a random shooting spree near his apartment. Then police shot and killed him. There's no way to understand the intensity of pain and anguish felt by each person affected by this tragedy. This would be any parent's worst nightmare.
Most people who commented on my friend's Facebook post had only words of compassion and support. Really, it's impossible to find the right words. Then as I scrolled down the page, the mother of one of the victims weighed in expressing her raw anger and bitterness. The conversation that ensued seemed like a posting free-for-all. My heart ached for my friend and for this mom who are both dealing with an enormous burden of grief. I was thankful for a few voices who brought some reason and compassion into this volatile exchange of words.
Social media has brought many positive changes–the ability to communicate with a large audience, to keep in touch with friends by simply sending out a short update. Text messaging makes it possible to contact people quickly and efficiently. But lately, I've been more aware of the downside. Maybe it's because you don't look into the eyes of the person you're communicating with, that makes it easier to send out brutal comments and criticism. People are quick to judge the mother whose child climbed into the gorilla habitat at the Cincinnati Zoo or the parents of the toddler who was attacked and killed by the alligator at Disney World. You just write whatever is on your mind and then hit send. There's no compassion or even an attempt to understand what the people involved are experiencing. The biggest problem with social media communication? Once those words are hurled into cyberspace, there's no way to retrieve them. The sting of negativity is there forever. It used to be that when you had a verbal confrontation with another person, there might only be a few witnesses, if any. Now, a Facebook or Twitter post can be viewed by hundreds if not thousands or even more.
Last Sunday, my pastor talked about how damaging words can be. He referenced James 3:1-12, a scripture passage that tells about how something as small as our tongues can be so destructive–just as a small spark can start a huge firestorm. (Something we're painfully aware of here in central Washington as another fire season begins). The same guidance for speaking can be applied to our social media conversations. Instead of rushing to comment and pass judgment on others, maybe we should pause and ask ourselves the three questions Pastor Jeff mentioned in his sermon:
1. Is it true?
Do we know the facts about what's being said–or is it hearsay?
2. Is it helpful?
Is what we're considering passing along something that will have a positive impact?
3. Is it necessary?
How important is it that we share this information?
Maybe when we feel strongly about joining a social media conversation, we need to put love and compassion first and leave judgment and criticism behind. Most of us are struggling through life to do the best we can. And if there's a need to confront or express our opinion, we can consider how to communicate this in the most loving way possible.
How do you respond to negative comments on social media?
New Hope for Marriage Retreat
If you or someone you know is struggling in her marriage, I'd like to invite you to consider New Hope for Marriage, a small group retreat to help wives find hope for their hurting and conflicted marriages.
We're now taking reservations for the Spring Retreat which will be held at Cedar Springs Christian Retreat Center, just outside of Bellingham, Washington, April 29-May 1, 2016.
Christie Miller, my co-facilitator, and I are passionate about helping other women come to the Lord for a transformation and healing of their marriages. We know–we've been there!
For more information, visit: www.nwspeakers.com
When we moved to the Methow Valley in North Central Washington almost 20 years ago, my husband Randy and I were naive about the risks of wildfires. We purchased some property in a high risk fire area, not thinking about the implications of building a home in the forest. We later sold that property so we could be located closer to town–in retrospect, a wise decision from a fire safety perspective.
In the years since we came here, we've experienced a number of wildfires. Usually, fires have burned in the wilderness, miles away from residences. We've witnessed spectacular mushroom-cloud smoke plumes and have been inconvenienced by smoky air. In 2001 the Thirtymile Fire impacted our community when four young wildland firefighters lost their lives. The reality of how dangerous these fires can be and how quickly they can explode hit us hard. Then last summer, we experienced the Carlton Complex Fire, the largest in Washington state history until this year. The fire decimated 250,000 acres and burned more than 350 homes. Our friends and neighbors are still recovering from that trauma.
We've all been on edge this summer with the extreme drought conditions and high temperatures we've had since June. A few weeks ago, fires erupted in the resort community of Chelan, an hour away from the Methow Valley.  Many homes were lost. Then last week, on what seemed like a normal Wednesday, sirens sounded about 12:30 p.m. The radio reported a fire had broken out a few miles outside of Twisp, a town 10 miles south of where we live. My heart froze. No longer could we be in denial about the destructive potential of these fires.
By 5 o'clock, both towns of Twisp and Winthrop had received evacuation orders. A line of cars traveled the only road out of the valley. A large fire-filled cloud grew to enormous proportions on a nearby ridge. I raced home from work, wishing I'd packed our evacuation box the night before like I'd told myself to. I should be ready, just in case…

The "just in case" was happening. Fortunately, I'd made a detailed evacuation checklist last year. It was helpful and calming to refer to it as I ran around the house gathering important papers, photo albums, pictures off walls, clothes, toiletries, Kosmo's dog food and supplies–and Kosmo! When you survey the contents of your home, you realize you can't take much–only a few things. Plus you don't know if you have much time. Do you have the luxury of deciding should I take the jeans or shorts? What jacket should I take? And shoes? Don't forget to wear them out the door! Looking back now from a safer perspective, I can better evaluate our evacuation process. I realize I forgot important things and took others that didn't even make sense.
In the end, you realize the stuff doesn't matter. Of course, it's a huge loss for those whose homes have burned, a loss that shouldn't be minimized. But the unfathomable pain that overshadows any material loss is the deaths of three young firefighters who became trapped on Wednesday afternoon in the extreme fire conditions. A fourth firefighter remains in critical condition at Harborview Medical Center in Seattle. We heard the tragic news as we evacuated. We are heartbroken with the rest of our community. And grateful beyond words for the bravery of firefighters, thousands of them, who put their lives on the line to protect us, our homes, and communities. As a group, they're quite unassuming. They don't think of themselves as heroes. One firefighter told me he was just doing his job, it wasn't a big deal.
Oh, but it's a very big deal for us. Without the vigilance and expertise of those who know how to fight these massive fires from the air and on the ground, our towns could have burned. Whether or not they realize it, these men and women are our heroes. A huge thank you hardly seems enough to express the gratitude that overflows in our hearts.
I'm looking forward to being the Keynote speaker at this event!
| | |
| --- | --- |
| Date: | March 14, 2015 |
| Time: | 09:00 a.m.-02:00 p.m. |
| Event: | Olympic Cluster Spring Celebration |
| Topic: | "Bear One Another's Burdens" |
| Venue: | Christ Lutheran Church |
| Location: | Belfair, WA |
| Public: | Private |
Before Christmas, my boss and his wife treated my co-workers and me  to an afternoon
of extravagance. Each of us was pampered with a massage, facial and manicure. As I lay on the massage table having the yummiest-smelling creams applied to my face, I suddenly felt overcome with emotion. This is pure extravagance, I thought. Something we as women don't often treat ourselves to–especially all in one afternoon! Tears welled up and one escaped down my cheek. I hoped the aesthetician hadn't noticed. It wasn't just the spa treatments that got me teary, but  reflecting on God's extravagant love.
New Hope for Marriage Women's Retreat
I'm excited about the NEW HOPE FOR MARRIAGE women's retreat I'm co-facilitating with Christie Miller. We have a few spaces available for the Feb. 20-21 date. Know someone who is discouraged in her marriage and needs some new hope – new energy – and a new plan? This is a great weekend opportunity. Small, private, encouraging!
For more information: www.nwspeakers.com
When I was 33-years old, I slipped on an icy sidewalk and fractured my knee cap. Ouch! I never dreamed how much something that looked like a simple "skinned knee" could impact my life. In an instant, I had been sidelined. It was as if God had grabbed me and said, "You, Deb. Time out. You're benched until further notice." I had an inkling that I'd been hiding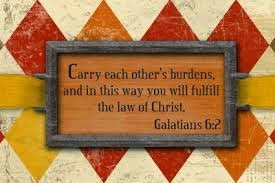 from my emotional pain. The reality that my husband Randy was an alcoholic lurked in my thoughts. But if I stayed busy enough, I could avoid the truth that was too painful to confront.
I spent weeks on the couch, my leg in a huge plaster cast from my ankle to my thigh. I couldn't run away–even if I wanted to. Instead, I had a front row seat to observe what was happening in my marriage–and it wasn't pretty.
A friend had told me about a Christian counseling practice in Seattle called Burden Bearers. She encouraged me to call and make an appointment. I remember the day my friend loaded me and my crutches into the backseat of her Ford Pinto, my bulky cast propped on the console. She drove me to my first counseling appointment at Burden Bearers–an important step on my journey toward healing.
A burden bearer was exactly what I needed–and what Jesus commands us to be for others, like my friend was for me.
Galatians 6:2 tells us: Carry each other's burdens, and in this way you will fulfill the law of Christ.
It's true that sometimes we feel too weak and overwhelmed to carry another person's burdens. That's when God sends people to help us. Since my knee injury, I've had many opportunities to help someone else who's carrying a heavy load. It's usually in an area where I've also walked and learned and grown–and experienced God's faithfulness and mercy.
I love the story from the book of Mark, about the paralytic man who is carried to Jesus on a mat by his four friends. They're convinced Jesus can help him. When they can't get close enough to Jesus because of the crowds, they take matters into their own hands.They climb up on the roof and make an opening so they can lower their paralyzed friend down –right in front of Jesus. That took some boldness. I probably would've said, I guess we aren't going to see Jesus today…and resigned myself to that. But these friends were determined. They were desperate to help their friend. We will get him to Jesus–no matter what! These friends are burden bearers in every sense of the word.
So what does it mean to come alongside someone in a time of need? How can you be a burden bearer?
You don't need all the answers or a degree in counseling. You need to be willing to listen and offer support. Let your friend know she isn't walking this road alone. Sometimes your quiet presence means everything.
Be a "roof ripper," as a friend of mine described the actions of the paralytic man's friends. Step out of your comfort zone. Send the note or email. Even better, make the phone call. Offer to be a burden bearer.
It's easy to get caught up in our daily routines and not be aware of others who are hurting. Bob Pierce, the founder of World Vision, said:
Let my heart be broken by the things that break the heart of God.

And then help me do something about it. Take action. Get beyond my own self-centered thinking. Lord, help us be connected with others so we'll know when there's a need.
Our world is filled with hurt and pain. You don't have to look far to find opportunities to reach out to others who are struggling. I can hardly imagine where I'd be today if I hadn't had friends who came to carry me through some tough times. I am so grateful for the opportunity to pass this comfort on to others.
Praise be to the God and Father of our Lord Jesus Christ the Father of compassion and the God of all comfort, who comforts us in all our troubles, so that we can comfort those in any trouble with the comfort we ourselves have received from God. 2 Corinthians 1: 3-4
Who is in your life who needs a burden bearer?